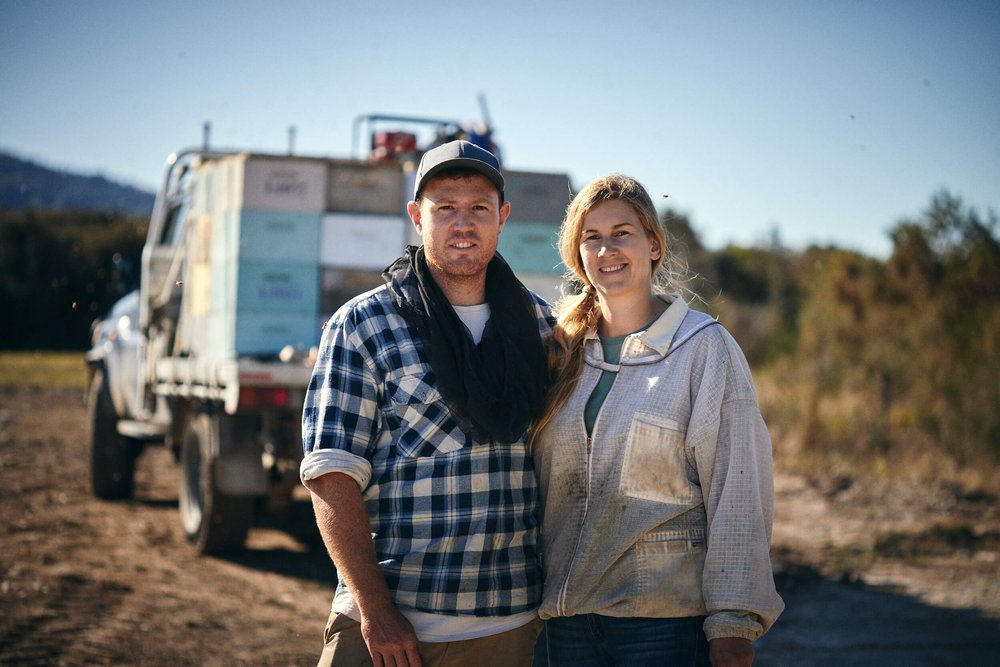 Our Story
Gold Fern Honey is a family-run, artisan beekeeping operation owned by partners Simon and Isabelle. We are located in the remote South Island of Aotearoa New Zealand, home to some of the world's richest Manuka sites. We take pride in producing top-quality, raw Manuka honey and other New Zealand honey varieties that are sustainably harvested from hives situated between lush rainforests and the rugged terrain of the foothills of the Southern Alps. After selling our honey for many years throughout New Zealand, from national grocery stores to local farmers' markets, we are now thrilled to offer our honey to the rest of the world. 
Thank you for taking the time to visit.
Simon & Isabelle
The art of beekeeping
The healing properties of Mānuka (Leptospermum scoparium) had long been recognised by early Māori. Infusions of Mānuka bark were used as a sedative, and to treat scalds and burns, while vapour from leaves boiled in water was used for colds. But the history of organised beekeeping in Aotearoa New Zealand did not begin until 1839, when Mary Bumby, the sister of a Northland missionary, brought two hives to the mission station in Hokianga Harbour. The New Zealand bush proved a hospitable place for the introduced bees and by the 1860s considerable quantities of honey were finding their way on to the market.
Research into the stability and antibacterial benefits of the rich, amber-coloured honey of uncultivated Mānuka began in the 1990s, when Phil Caskey and his wife Sharan built on the research undertaken by University of Waikato professor Peter Molan. Today manuka honey is coveted worldwide for its healing and anti-bacterial properties.